The weeks since the 2010 Annual General Meeting have flown by.  Propelled by a strong and clear mandate from the National Council of YMCAs, we've been working on:
supporting the search for a new President & Chief Executive Officer for the YMCA of Greater Vancouver
recruiting a Senior Vice President for Shared Services
developing RFPs for consultant support for the 2012-2015 federation strategic plan, including the governance and delivery of service reviews, and for Association engagement
planning the next stage of the National Resource Creation and Capacity Building Initiative (NRCCB) and YMCA brand strategy development process
The national conversation on the Case for Change and National Council's decision to adopt Focus 2010-2011 have set us down on new terrain.  Our plan is to navigate it with GPS-like precision and focus.  I think of National Council as equivalent to the network of satellites that transmit signals to pinpoint where we are and to provide a route to our destination.   Our current task is to load our GPS with the maps that will work in conjuction with information from satellite signals to get us to our destination by May 2011.  Only the best instruments for communications, engagement and collaborative decision-making will ensure we get there — combined with 100% commitment from all of us to use them effectively.
We also expect that work on Priority SAM, the Call to Action on the health of children and youth, and other ongoing initiatives will move us in the right direction.  It will produce opportunities for Associations this fall along with new ways to increase our collective buying power through shared services.  We'll have more details to share over the summer and into the fall.
So, we're off!  The energy and excitement generated by the conversation leading up to this year's meeting, and then stoked by presenters and participants during it, continues to build.  We just recently posted more than 200 photographs of the weekend on YMCA Canada's Flickr page.  Watching the slide show reminded me just how ready we are to increase our efforts to strengthen the foundations of our communities, and why strengthening our federation is the right place to start.  To begin by asking ourselves: what does each of us bring to the table?
Jowi Taylor and I got together last week in YMCA Canada's boardroom to talk more about the YMCA Table Project — a great national treasure hunt for stories that respond to this important question.  We hope you will listen in and then talk with others over the summer to generate ideas that lead you to the artifacts that you'd like to contribute to the building of the table.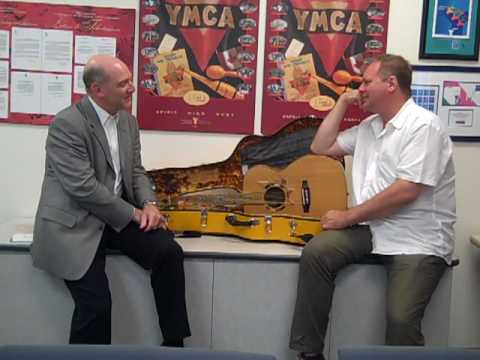 My question for you today is: what are the signs that will indicate our federation is getting stronger?
Scott
Tags: AGM, brand, Canada's children and youth, change, federation strategy, National Council of YMCAs, shared services, Vancouver