Here we are!  The National Council of YMCAs.  250 YMCA leaders, including 40 young people, from 53 Associations.  Volunteers and staff together.  Retirees like Joe Walker from Peterborough, Ontario.  Friends and supporters, like Jowi Taylor (with Voyageur in its bright yellow case) and a legion of red-shirted facilitators from MASS LBP.
See the circle of Muskoka chairs in the upper left hand corner?  Over the course of the 2010 Annual General Meeting, we talked together in circles like this one.  We shared why it is important to belong to a federation and some of our own stories.  We listened to Tom Zara from Interbrand on what makes a brand iconic before we considered a national YMCA brand strategy based on the idea of "strengthening the foundations of community."  We had the chance to look at the merits of adopting a common brand position, and to examine the state of the YMCA's foundations.
This discussion and an even broader one related to an update to YMCA Canada's 2007 – 2011 strategic plan culminated in a vote.  National Council members (the Board Chair and CEO of each Association) unanimously agreed to add five new strategic priorites for the next eighteen months.  This decision enables us to:
keep working on the YMCA brand strategy and its implications for Associations (related to cost, governance etc.)
start working on a federation strategic plan for 2012 – 2015 that creates connections between local and national priorities
deliver on the mandate of the National Resource Creation and Capacity Building Initiative, including exploring opportunities for collaboration on positioning, philanthropy, program design/development, partnerships, and making linkages between these areas of work
start working on two reviews — a governance review and a delivery of service review to focus efforts on building local-national capacity and to strengthen the role of the National Council of YMCAs
These priorities signal the need to strengthen the YMCA's foundations to play a leading role in strengthening the foundations of Canadian communities — and others around the world.  They invite a higher degree of engagement and participation from Associations than before.  More discipline in developing and executing strategy.  Greater coherence across traditional boundaries.  An openness to learning while doing.  A long range perspective.  The capacity to think locally and nationally at the same time.  Probably most importantly, these priorities make collaboration a necessity not an option.  They are inspired by an old Kenyan proverb: "sticks in a bundle cannot be broken."
It was in this same spirit that we received incoming World Alliance of YMCAs Secretary General Johan Vilhelm Eltvik as an honourary member of the National Council of YMCAs.  He reminded us that our own membership in the global YMCA family makes us and the world stronger.  As one delegate noted in an e-mail shared with me after the meeting:
I thought that Johan was quite remarkable in his command of the [global YMCA] agenda … I felt it was wonderfully synergistic with the way in which the YMCA in Canada (and in our community) operates.
Many have commented to me on the powerful presence of young YMCA leaders at this annual meeting.  As participants in strategic discussions.  As facilitators working alongside the MASS LBP team.  As videographers who reported on their Associations' responses to the Call to Action on the health of children and youth.  As speakers who shared their reflections on global citizenship and as musicians who sang about citizen engagement.  As a reminder that that the YMCA belongs to the future as much as to those of us who are benefiting today from its presence in more than 250 Canadian communities and 124 countries.  This fact is reason enough to invest the assets entrusted to us by previous generations wisely and to make sure that they are increased — not depleted — on our watch.
The meeting closed with the announcement of a special project inspired by the story of Six String Nation.  We're building a table for Canada's YMCA.  Made from local artifacts that tell important YMCA stories.  Turned into a modern heirloom by the Brothers Dressler who specialize in making modern furniture from old materials.  Unveiled at the 2011 Annual General Meeting and then housed in YMCA Canada's boardroom.  You can see my slide presentation by clicking here.  We'll be posting a video about the next steps on this blog by the end of June.
To capture a few different perspectives on the weekend's highlights, we spontaneously pulled together a small group of delegates to make a video while everyone else was saying their goodbyes:  John Corlett (Niagara), Margaret Kay-Arora (Canada East MRC), Marty Reynolds (YMCA Canada Board), Lauren McPetrie (Niagara), Jim Loyer (Chatham-Kent), Jennifer Wilson (Chatham-Kent, Sarnia-Lambton), Johan Vilhelm Eltvik (World Alliance of YMCAs) and Susan Waterfield (YMCA Canada Board).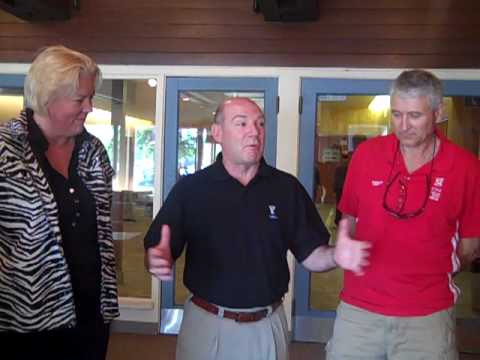 The last word on this meeting belongs to them — and to you if you'd like to make a comment or ask a question below.
Scott
PS:  Our thanks to the YMCA of Simcoe/Muskoka for hosting us at YMCA Geneva Park again this year.
Tags: AGM, brand, Canada's children and youth, capacity, change, collaboration, federation strategy, global partners, National Board, National Council of YMCAs, resources